If you need proof, simply compare today's copy of the Richmond Times-Dispatch to an issue of The North American, a newspaper published in Philadelphia in the late 19th century.
We bring to your attention what we believe to be the largest broadside newspaper in the vast newspaper collections at the Library of Virginia, measuring a whopping 30" x 24.5," which means opened flat the paper spreads out to almost 50 inches in width!
The adjoining photo provides evidence that the paper was large and in truth pretty unwieldy. As Newspaper Project colleague, Silver Persinger, shows, it's a wonder the average citizen could stand on a street corner and read the publication.
It recalls the great Buster Keaton site gag involving a newspaper in his classic short film, The High Sign. Check out Keaton's comic hijinks in this excerpt from the movie: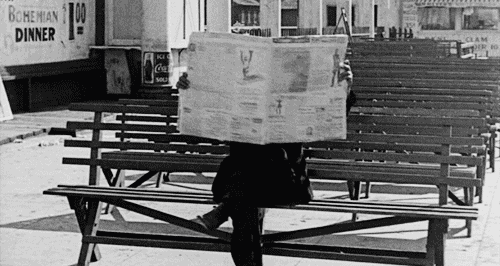 Back to The North American. While the Library generally does not focus its newspaper collecting on out of state papers, it has acquired a select number of papers that provide some depth and texture to the LVA's strong holdings of original Virginia imprint newspapers.
The North American out of Philadelphia, PA is such an example. The title had a healthy publishing run from 1839 to 1925, with strong Republican tendencies, and it wasn't shy about announcing boldly on the banner that it is "The Oldest Daily Newspaper in America."
The issue in hand was published April 14, 1877 and while it contains articles that may interest our patrons, the newspaper's sheer size is probably one of its most noteworthy features.
The North American came to the Library as part of a larger gift of newspapers with issues spanning many decades and U.S. states, so we're excited to have this impressive paper added to the collection.